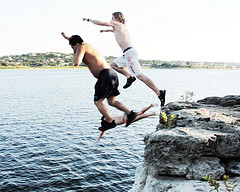 by
4ELEVEN Images
Question by Oz: What are these songs called in New Moon?
Ok so I have a few.
The first one is when Bella brings Jacob the bikes and he picks them up and music starts playing.
Secondly, while they're working there's a song playing and she turns it off on the radio while she's with jacob cause she doesn't like music.
And lastly is when she sees Edward in the water after she's cliff dived. And it shows them looking at each other then she gets pulled out!
Thanks!
Best answer:
Answer by Gemma
"All I Believe In" by The Magic Numbers plays when Bella's bringing the bikes up to Jacob's place and "Shooting the Moon" by OK Go plays while they're working on the bikes and "Slow Life" by Grizzly Bear plays when she's underwater and hallucinates Edward.
Know better? Leave your own answer in the comments!